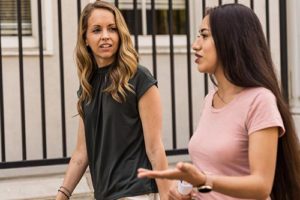 Being a parent of a child or adolescent can definitely be a challenge. This is especially true when the child struggles with a mental health disorder, a substance use disorder, or both.
If your child is in crisis, we can help. HillsidesCares offers the highest caliber of mental health treatment for children and adolescents. Our program is designed for individuals experiencing mild to acute stress from symptoms related to emotional, behavioral, and social challenges. Often, our clients experience problem behaviors that may threaten their health and safety. Our HillsidesCares team can provide the tools and resources to help children and adolescents develop the skills they need to be content and successful in their lives.
Frequently Asked Questions
What Staff Members Provide Treatment?
The multidisciplinary treatment team HillsidesCares consists of several highly qualified staff members trained specifically in child and adolescent mental health. Our mental health staff is on campus each day of the week, including weekends. These staff members include:
A psychiatrist
A mental health clinician
A behavioral specialist
A dedicated case manager
A licensed vocational nurse
A crisis response specialist
Various recreational and support staff
How Will Family Members Be Involved in the Treatment Process?
Family involvement is a core component of the treatment program at HillsidesCares. Parents are strongly encouraged to participate in family therapy, which typically occurs one time per week. However, the frequency of sessions is ultimately decided by the family, child, and therapist. Families are also invited to participate in multi-family therapy groups and family events on campus, such as viewing our talent show or visiting during holidays. Also, parents will receive regular phone or virtual check-ins and ongoing support from their therapist regarding updates about treatment progress. In the instance of a crisis, parents are notified immediately, no matter the time of day or night.
How Many Other Children Will Be in the Programs?
One of the common frequently asked questions our team hears is asking about the number of other children and adolescents in the programs. HillsidesCares treats children and adolescents in groups of ten in our cottages. Our residents live on a 17-acre campus and are spread across five separate cottages based on their age. 
What Are the Sleeping Arrangements?
Each client room is private. Each cottage has a personal wardrobe, shared bathroom, small kitchen, and a common area for TV and games.
What Is a Typical Length of Stay at HillsidesCares?
The typical length of stay in our residential program is between 3 and 5 weeks. Treatment can run longer in instances where additional support is needed to safely transition a child home or to a lower level of care.
HillsidesCares works with many different insurance carriers to cover the cost of treatment. Learn more by contacting our admissions department at
323.641.4842
, so one of our representatives can pre-verify your insurance benefits information. Keep in mind that we also accommodate self-payment plans.
If My Insurance Won't Pay for Treatment, What Are My Options?
At HillsidesCares, our team works with many different insurance carriers to cover the cost of treatment. If your insurance is out of contract, don't worry. Our admissions team will work with your carrier to arrange for a single case agreement. If your insurance will not cover the cost of treatment, we accommodate self-payment plans. However, our admissions team will exhaust all options with your insurance carrier before discussing self-payment.
Do You Accept Clients Transitioning Out of a Hospital?
Yes, it is very common for us to transition clients from a hospital to our residential program. Typically, a client will only spend a couple of days in a hospital setting to manage the immediate, short-term risks associated with mental or emotional health issues. HillsidesCares can act as the next step after hospitalization. We specialize in providing longer-term and sustained support that a child or adolescent needs to start the recovery process.
What Should My Child Bring to HillsidesCares?
Any items that are brought to HillsidesCares will be carefully inventoried at intake and discharge. Some of the items that are allowed to be brought to HillsidesCares include:
Bring enough clothes to last a week. Residents at HillsidesCares will have the ability to wash their belongings, and parents can always bring other articles of clothing when they visit.
You may also wish to pack toiletries. HillsidesCares provides toiletries, but many adolescents like to bring their own brand.
Residents are also welcomed to bring personal items such as photos and personal reading.
Although HillsidesCares will provide all linens, pillows, and towels, some clients may prefer to bring their own.
Cell phones are allowed on a case-by-case basis. The electronics policy is reviewed with the family before admission to treatment at HillsidesCares.
Some of the items that are prohibited at HillsidesCares include:
High-value electronics
Aerosols
Glass
Weapons of any kind, including knives
Illegal drugs or alcohol
May I Visit My Child During Treatment?
Families are encouraged to visit their children on campus throughout treatment. However, visitation hours are determined on a case-by-case basis. We do not have predetermined visitation hours every client must adhere to. When clinically safe, parents may have off-campus passes with their children to enjoy community activities together like going to lunch or going for a walk. Virtual visits are also available.
Will My Child Keep Up with Schoolwork?
Yes, but only when the child is ready. The priority is achieving psychological stability with the client first. Then, when they are ready to focus on their studies, our team provides behavioral and mental health support to allow clients to focus on schoolwork and achieve their educational goals.
Get Your Questions About Mental Health Treatment Answered Today
Our HillsidesCares team understands that considering entering your child or adolescent can be intimidating. That's why our team is ready to answer any questions you may have about us. Call us today at 323.641.4842 or complete our online form, and our admissions team will be happy to answer any and all questions.